AutoOff - Shut down Windows at a specified time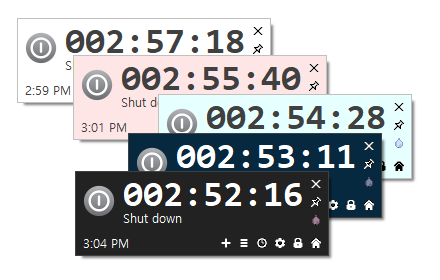 AutoOff is a program which shut down or restart Windows at a time specified by you.
In addition, you can put the computer to sleep or turn off the display, lock Windows and more for power savings and privacy protection.
[Download]
August 11, 2022
June 30, 2022
[System requirements]

Windows XP SP3 or higher(Windows 2003, Windows Vista, Windows 7, Windows 8, Windows 8.1, Windows 10)
[Features]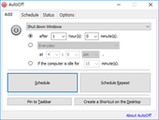 A variety of functions
You can shut down or restart, suspend, hibernate Windows, turn off/on the display, start a screen saver, lock Windows, get an alarm, run/terminate a program at a specified time with easy options.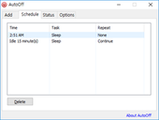 Repeative, Multiple Tasks
You can schedule a repeative task and you can schedule multiple tasks at the same time.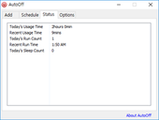 Status
You can see the Today's Usage Time, Run Count and so on.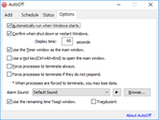 More options
You can change Alarm Sound.
You can force processes to terminate.(
*
)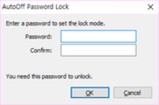 Password Lock
You can prohibit schedule changes and program termination with Password Lock.

System Tray menu
You can run a function of AutoOff immediately with a System Tray menu.

Taskbar Jump List task menu
If you click an AutoOff icon pinned to the Taskbar with a right mouse button, you can run a function of AutoOff immediately.(Windows 7 or higher)
* When processes are forced to terminate, you may lose data.
[4.22 Changes]

Fixed bug with computer usage time condition handling
[4.21 Changes]

Fixed bug with idle state handling option
[4.20 Changes]

Fixed condition type change bug
Repetition schedule input limit
[4.19 Changes]

Added condition to limit computer usage time
All conditions can be limited to a specific date
Added seconds to timeout condition
Fixed shutdown and restart handling when the desktop is locked
(requires checking the Force processes to terminate always option)
Other bug fixes and improvements
[4.18 Changes]

Added an option to show seconds on the clock
Added an option idle state during the system required operation(video playback, etc)
Support for France, thanks to Christophe(www.sospc.name)
Chinese translation updated, thanks to http://www.th-sjy.com
Other bug fixes and improvements
[4.17 Changes]

Improved program run and termination schedule messages
Chinese translation updated, thanks to kenny
Other bug fixes
[4.16 Changes]

Added an option to show the day of the week
Added Clock Font option
Fixed Clock size bug
[4.15 Changes]

[4.14 Changes]

Added Clock Mode(Change mode with double-click)
Prevent process terminating
Added Delay 60 sec to shutdown warning
Added window options, opacity settings, and more
Other bug fixes and improvements
[4.13 Changes]

Timer window displays current time
Add timer window color
Ask password when cancel scheduled tasks in locked state
Add password error message
Update for Greek, thanks to http://www.geogeo.gr
[4.12 Changes]

Fixed Usage Time bug
Fixed Windows XP compatibility bug
Other bug fixes and improvements
[4.11 Changes]

Added Display On task type
Added an option to show default window when Windows starts
Stop alarm sound test playback
Other bug fixes and improvements
[4.10 Changes]

Fixed a bug on terminating a 64-bit program
Improved computer idle check
[4.9 Changes]

Added Status such as Today's Usage Time
Other bug fixes and improvements
[4.8 Changes]

Added Terminate a program task type
Support for Chinese, thanks to http://www.th-sjy.com
Other bug fixes and improvements
[4.7 Changes]

Improved computer idle check
Improved sleep mode processing
Update for Greek, thanks to http://www.geogeo.gr
Other bug fixes and improvements
[4.6 Changes]

Fixed computer idle check
Check the lock password before install and uninstall
Support for Russian, thanks to Max
[4.5.1 Changes]

English version Schedule Repeat bug fix
[4.5 Changes]

Added a password lock
Added a type that works when the computer is idle
Added display time option of the shutdown confirmation window
Added remaining time notification toast option
Added translucent toast option
Other bug fixes and improvements
[4.1 Changes]

Option for the timer window
HotKey(Ctrl+Alt+End) to open(optional)
One click on the tray icon to open
Fixed notification time bug
[4.0 Changes]

Improved UI of the timer window
Specify the repeat date
Save the location of the window
Added the window magnetic effect to the edge of the screen
[3.6 Changes]

Added the timer window
Change the default input value for the hours, minutes
Other bug fixes and enhancements
[3.5 Changes]

[3.4 Changes]

Fixed an option related bug
Added an option to force to terminate process always
Added handling suspend and resume
Fixed handling double-click on the tray icon
Change button text on the confirm window for restart and hibernate
Other bug fixes
[3.3 Changes]

Priority bug fixed when scheduling multiple tasks
Change time display(if required, month and day are displayed)
Support for Japanese
Other performance enhancements and bug fixes
[3.2.1 Changes]

Update check fixed
Language setting menu bug fixed
Greek tanslation updated
[3.2 Changes]

[3.1 Changes]

Added Alarm task type
Added Run a program task type
Other feature enhancements and bug fixes
[3.0 Changes]

Changed icon and user interface
Jump List task menu on the Taskbar
System Tray icon menu
Added task types(Turn off the display, Start the screen saver, Lock Windows)
Check latest updates
Schedule multiple tasks
Schedule a repetitive task
Pin to Taskbar
Create a Shortcut on the Desktop
Support for English
Official Homepage of StarCodec